Tone generator
Tone generator outputs four kinds of waveforms with arbitrary frequency. Using the tone generator, it becomes easy to check the performance of audio devices. In this page, you can see how to check the audio device of your PC by using the RA's tone generator and the oscilloscope.
Introduction
Start the Signal generator from RA, and click the start button. Test sound comes out from the PC's loudspeakers. It can be recorded by the built-in or external microphones.

Here, to check the sound circuit of the PC, the signal output inside the PC is measured directly. The flow of the sound signal in the PC is changed by the "volume control" function .

Windows is equipped with the volume control as a standard. The usage is explained below.
Volume control

Double click the "Speaker" icon in the task bar. The Volume Control window appears.

Volume control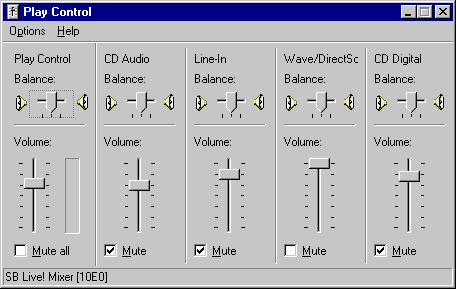 Select the "Property" from the "Option" menu.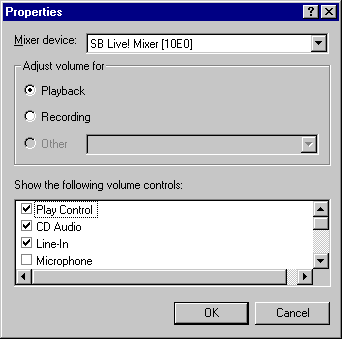 Change the "Adjust volume for" from "Playback" to "Recording" and check the "Stereo out" in the "Show the following volume control" list.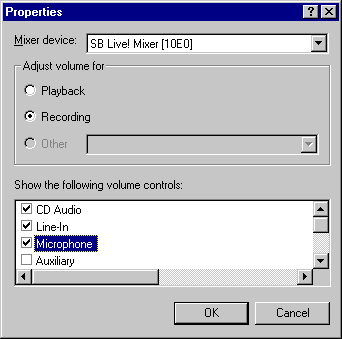 The device name displayed in the "control to display" list depends on the PC. The "Stereo out" in this example is displayed as the "WAVE" or the "WAVE Out Mix" in other PC. If you are not familiar with them, check all devices. Then click the "OK" button.

Recording control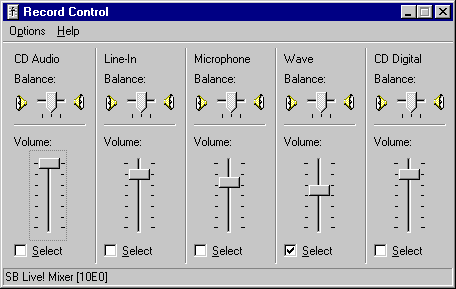 In the Recording Control window, select the "Stereo Out". The setup is finished. Select the "Exit" from the "Option" menu. The Volume control window is closed.
Signal Generator
Start the RA.


See that the "Stereo Out" is selected as the input device. Click the "Signal Generator" button. The signal generator window appears.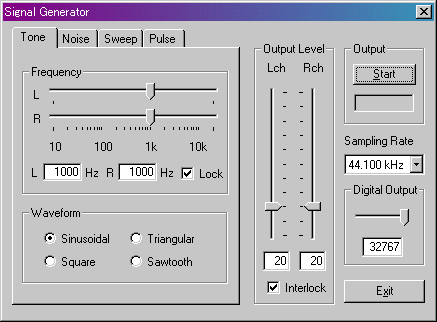 As in the figure above, enter the frequency as 1000 Hz and click the Start button. The 1000 Hz pure tone comes out. To adjust the volume, move the "Output Level" scrollbar gradually.

Next, click the "Oscilloscope" button from the main window of RA. The Oscilloscope window appears. Click the Start button on the Oscilloscope. The waveform is displayed as below.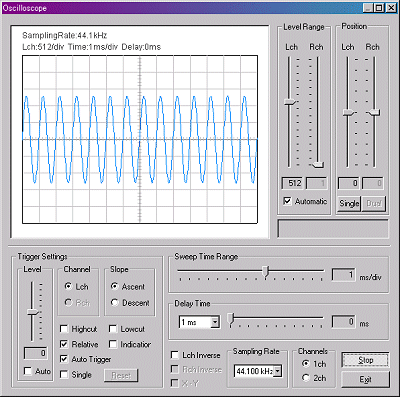 If the waveform is not displayed, check the Volume control again.

Leave the signal generator and the oscilloscope operating, and open the volume control.

Volume control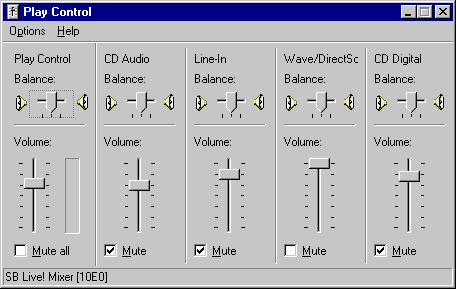 Confirm that the "Mute" is not checked.
Recording control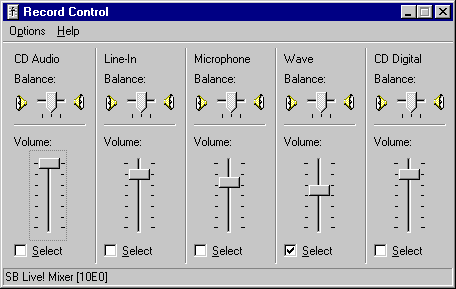 Select the devices one by one. The waveform should come to be displayed on the "oscilloscope" by either.
Check of the audio device of PC
Four different waveforms (sinusoidal, triangle, square, sawtooth) are measured by the oscilloscope. Two PCs are compared.

SONY VAIO PCG-Z505GR/K (notebook)

The sinusoidal and the triangle waveforms are clean, but the square and the sawtooth are distorted.
Sinusoidal
Triangle
Square
Sawtooth
DELL Dimension XPS T750r (desktop)

Distortion of the square and the sawtooh wave is weaker than above. It seems that DELLs soundboard is better than VAIO. Try with your PC.
Sinusoidal
Triangle
Square
Sawtooth
See also Noise, Pulse, Sweep generator.
---