| TOP | STORE | DSSF3 | RAE | RAD | RAL | MMLIB | Support | Contact Us |

About this manual

Introduction of EA

Operation Guide

Reference Manual
About this manual
This program manual is written for DSSF3. But it is also helpful in using RAE. RAE is the older version of DSSF3 and they share basically the same functions. See Function list to know available features in each version of the program.
How to use the program in the actual measurement is explained in the Operation Guide. Measurement reports are given in the following application note. It covers a wide range of application. You will find a relevant instruction for your work. Click the link below.

The manual consists of the reference manual and the operation guide. Reference Manual explains the meanings and functions of each item of the program. Q&A received by our users may also help your understanding about the program. If you have further questions, please contact us.
How to start Environmental noise Analyzer
This is the main window of EA (NMS.exe).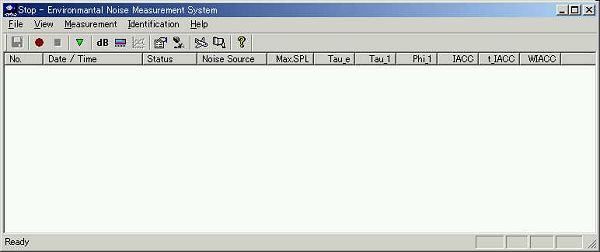 Select the "Automatic measurement" from the Measurement menu, or click the

button. During the measurement, sound is recorded only when its level exceeds the "Trigger SPL", that is specified in the configuration window.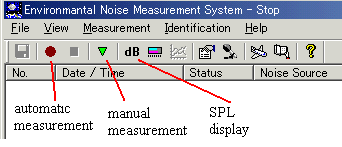 This is the SPL display. Trigger SPL is monitored by this value. For measuring SPL, microphone's input level has to be calibrated using the sound level meter or the acoustic calibrator.


Measured data is displayed in the main window of EA as below. Max SPL during the measurement session is shown. If the noise source templates have been prepared beforehand, the identified noise source is also shown.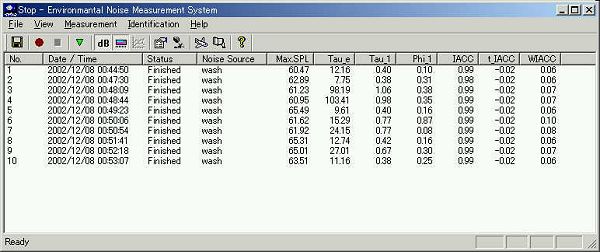 After the measurement is complete, measured data is saved in the database and further analyzed in the Sound Analyzer.
NOTE As for RAE, no future upgrade is scheduled. But DSSF3 is always upgraded for including new functions. See DSSF3 news for the upgrade information. Users of DSSF3 are recommended to perform the online update to keep your software up to date. Please understand these points when you find the difference between the actual program and information in this document.
| TOP | STORE | DSSF3 | RAE | RAD | RAL | MMLIB | Support | Contact Us |
If you have questions or comments about this page,
feel free to contact us by email ymec@ymec.com or by online inquiry form.