YMEC software | TOP | STORE | DSSF3 | RAE | RAD | RAL | MMLIB | FAQ | Support | Contact Us |


| Japanese | English |
To use the Realtime Analyzer it may be insufficient with the function and devices which are built in the PC. In this page, it is introduced what devices are required to use RA for a sound measurement.
Introduction

PC's audio capability

Basic function of Realtime Analyzer

Output device

Input device

Duplex input/output
Hardware selection guide

Sound interface

Measurement microphone
---
Required device for sound measurement is a sound board or a sound circuit. Most PCs are equipped with the built-in sound circuit. Your PC probably has a "microphone input" terminal and a "headphone output" terminal.
EXAMPLE: SONY VAIO505

A red jack is a "microphone input" terminal, and a green jack is a "headphone output" terminal. Note that in some PC, only a monaural (one channel) signal can be dealt with.
As a reference, functional diagram of sound devices inside the PC is shown below. When the sound is coming to "Line-in" or "mic-in", the analog signal is first converted to the digital signal by the D/A converter. Then, the digital signal is put in the mixer device of Windows and is taken in to Realtime Analyzer (RA). When replaying the test signals created in RA's signal generator, the signal passes the same course in the opposite direction. Windows' sound control program (volume control) is used to select the input / output device and to adjust the volume.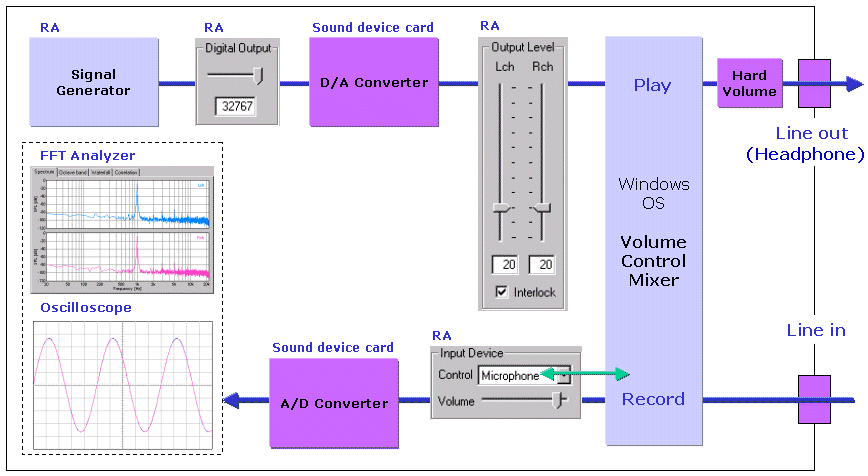 ---
Basic function of Realtime Analyzer
Realtime Analyzer has following functions.

Signal generator
FFT analyzer
Oscilloscope
Running ACF (not included in RAL and DSSF3 Light)
Impulse response (not included in RAL and DSSF3 Light)
First, let's see what sound device is needed for these functions.

1. Signal generator is a function to generate a test signal. It needs an output device such as an amplifier and a loudspeaker. PC's built-in speaker can be used, but you should remember its quality is generally not good.

2-4. FFT analyzer, oscilloscope, running ACF receive a signal from outside. Then they apply some calculation and display the results. These functions need an input device to receive a signal. Typical input device for sound measurement is a microphone. For measuring other kind of signal, such as vibration or voltage in the electronic circuit, an accelerometer or an electronic probe are used.

If the outstanding input/output device is built in the PC, you do not need to worry about at all. Otherwise, external devices are needed. In the following, examples of input and output devices are introduced.
---
If you only hear a tone or a sweep signal with the built-in speaker of your computer, any other device is not needed. Otherwise, devices are required as follows.

To sound an External loudspeaker
This cable is needed if the "Line Out terminal" of a personal computer is a stereo pin jack and the input terminal of an amplifier is the RCA type.

A speaker with built-in amplifier may have a pin jack. Then, prepare a cable with both ends of stereo pin.
---

You can use the FFT analyzer or the oscilloscope with the built-in microphone of a personal computer. For example, it will be enough to show children a waveform and teach about sound. However, when you need a precise measurement, an external microphone and microphone amplifier are needed.
The price of the professional-use microphone for measurement (for example, ACO) is hundreds of thousands of yen. However, we think that the 10,000 - 20,000 yen ($100-200) product of the ECM (capacitor microphone) series of SONY is good enough. Also, if it is not a strict stereo measurement, an one spot stereo microphone is also convenient.
The built-in microphone amplifier as a "microphone input terminal" of a computer is not powerful. It is ideal to connect the microphone to the "Line-in" terminal of a personal computer using the external microphone amplifier. A portable DAT player, or a microphone mixer can be used as the microphone amplifier. A portable device is recommended for the outdoor measurement.
| | |
| --- | --- |
| | This is a compact microphone mixer which operates by the dry cell. It can be used as the microphone amplifier. |
It is the back panel of this device.



Connect a microphone to the microphone input terminal. Also connect the LINE OUT terminal to the LINE IN terminal of a computer.
Digital video recording
If you have a video camera with a capability of 16-bit digital recording, sound can be recorded on a videotape and then imported to the computer. For example, Sony VAIO can be connected with the video camera very easily via iLink cable.
---
In many cases of the audio measurement, input and output of the signal need to be done at the same time. For example, in testing the frequency response of the loudspeaker, a test signal (e.g. pink noise, or sine sweep) is fed to the speaker via the amplifier, and its output is measured by the microphone. See audio measurement report and sweep generator and frequency response measurement for how to do it.
Another example is the impulse response measurement. It needs the sound device which can output and input sound at the same time. It outputs a test signal (MLS or TSP signal) and inputs a response from microphones. Input and output signal must be synchronized in this measurement.
A soundcard with such a function is called a "full duplex" model. Nowadays, almost all sound cards are full duplex, so you can use them without worrying about it.

---
Hardware selection guide
We frequently receive questions from users about hardware required for the measurement. In general, most sound chips installed in the standard notebooks are not good, so you need external soundboard and amplifiers. However, the required performance of soundboard depends on your purpose. So, we suggest you to test your PC by yourself. For how to test, see the following pages in which we report on the measurement of the soundboard of several PCs (mainly DELL and SONY).

Introduction to sound measurement
Check before the measurement
Measurement of soundcard's performance
Distortion analyzer application note
Sound interface is very important for the precise measurement. We recommend a USB audio interface or PCMCIA soundcard for your convenience. The products below have been confirmed to work with DSSF3 properly. Note that RAL, RAD, RAE have not been updated since 2002, and may not work with these devices. In that case, please try DSSF3.
NOTE: We have been reported some of the USB devices did not work with RAL/RAD/RAE. If you have problems, please try DSSF3. We are greatly appreciated if you could give us information about the device which was confirmed to work with DSSF3 without problems. We will add your suggestions to the list. Please mail to ymec@ymec.com.
As for microphones, we recommend a calibrated condenser microphone. For example, products below are widely used by the audio engineers.
For sound pressure level measurement...
If you want to measure the absolute sound pressure level, an input level sensitivity should be calibrated. For this calibration, the "sound level meter" or the "acoustic calibrator" would be necessary. You can find many products on the web, e.g. http://www.noisemeters.com/. For how to calibrate the microphone, see the operation guide of Realtime Analyzer.

For binaural measurement...
For measuring the spatial qualities of room acoustics, or doing a binaural recording of environmental sound, stereo microphones at the entrance of ear canals are necessary. The most commonly used equipment for such measurements is dummy head microphones. The picture below is Neumann KU 100. http://www.neumann.com/infopool/mics/produkte.php?ProdID=ku100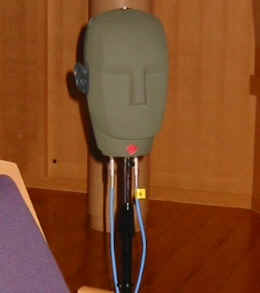 Even if you cannot afford to purchase the expensive dummy head, a good binaural microphone can be built by attaching two lavalier microphones inside your ears. Several manufacturers are selling inexpensive and high quality lavalier microphones and easy attachment parts.
---

Copyright © 2001-2003 Yoshimasa Electronic Inc.